How does IRS e-file work?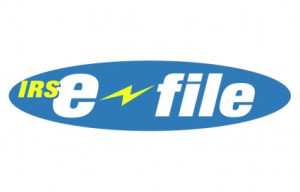 You or your tax professional, prepare your tax return. In many cases, the tax professional is also the Electronic Return Originator (ERO) who is authorized to file your return electronically to the IRS. Ask your tax professional to file your return through IRS e-file.
You sign your electronic tax return by either using a Self-Select PIN for e-file for a completely paperless return, or by signing Form 8453, U.S. Individual Income Tax Transmittal for an IRS e-file Return. See "If the return is electronic, how do I sign it?" for more information.
After you sign the return using a Self-Select PIN or Form 8453,the ERO transmits the return to the IRS or to a third-party transmitter who then forwards the entire electronic record to the IRS for processing. Once received at the IRS, the return is automatically checked by computers for errors and missing information. If it cannot be processed, it is sent back to the originating transmitter (usually the ERO) to clarify any necessary information. After correction, the transmitter retransmits the return to the IRS. Within 48 hours of electronically sending your return to IRS, the IRS sends an acknowledgment to the transmitter stating the return is accepted for processing. This is your proof of filing and assurance that the IRS has your return information. The Authorized IRS e-file Provider then sends Form 8453 to the IRS.
If due a refund, you can expect to receive it in approximately three weeks from the acknowledgment date – even faster with Direct Deposit (half the time as when filed on paper). If you owe tax, see "What if I owe Money?" for payment options available this year.
e-file with Commercial Software
e-file is short for electronic tax return filing. It includes both preparing taxes electronically using tax software and filing taxes electronically. You can pay electronically, too.
Doing Your Taxes
Gather your tax information (SSNs, W-2s, 1099s, etc.). Buy tax software either off-the-shelf or online. The software's question and answer format makes doing taxes much easier than filling out tax forms.
Signing Your Taxes
Electronically filed returns must be signed electronically. You verify your identity by entering last year's adjusted gross income or a five digit PIN (Personal Identification Number) that you create yourself. This makes your return more secure and completely paperless.  To create your PIN and get more information on signing your return, go to Electronic Filing PIN Help.
Filing Your Taxes
When you hit "send," your return will be securely transmitted through an IRS-approved electronic channel.  It is not sent by e-mail because e-mail is not as safe as our secure channels.
As part of the delivery process, IRS computers automatically check your return for  mistakes.  If we find easy-to-fix mistakes, like a math error or a wrong social security number, we immediately send it back to you.  You can fix it and send it right back.  This saves time and prevents a simple mistake from holding up your refund.
Paying Your Taxes
We offer several convenient, safe and secure ways to pay your taxes electronically.
e-file and pay in a single step by authorizing an electronic funds withdrawal and get an acknowledgement as soon as we accept your payment;
pay by credit card; or,
mail a check or money order (made out to the United States Treasury) using Form 1040-V, Payment Voucher.
With e-file, you can file as soon as you are ready but schedule your payment for any date up until April 15th, 2013. To find out more, go to electronic payment option
Getting Your Refund
Go to Where's My Refund? on the right side of the IRS.gov home page to find out where your refund is in the IRS processing pipeline. You'll need your SSN or Individual Taxpayer Identification Number (ITIN), filing status and the exact whole dollar amount of your refund.